By: Jaspreet Kaur
New York, USA – UNITED SIKHS was honored to represent the Sikh community at Ground Zero during Pope Francis' interfaith prayer service on September 25, 2015.
The 266th Catholic pope is the fourth incumbent pope to visit the United States, and further made history by conducting an interfaith prayer service at the former site of the World Trade Center. As part of his 6-day visit to the United States, Pope Francis has also spoken at the White House, the United Nations Sustainable Development Summit, and became the first pope to address the U.S. Congress.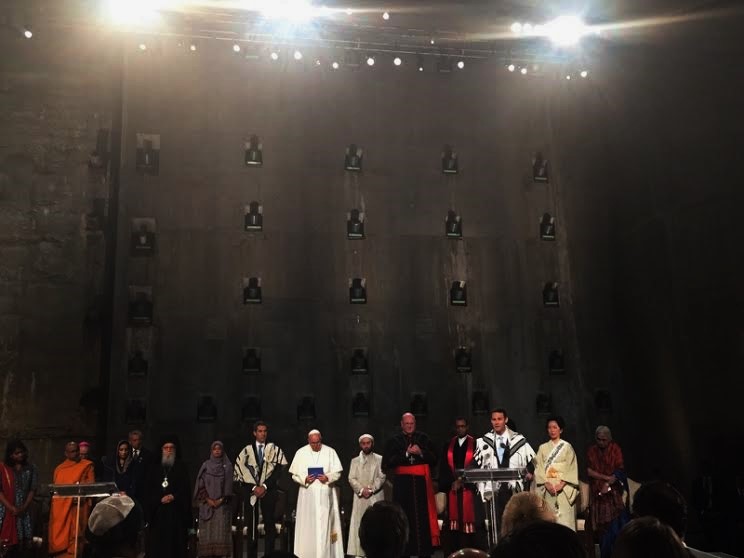 During his speeches, the Pope emphasized the collective social responsibility every citizen has to ensure the safety and acceptance of oppressed and underrepresented communities. Pope Francis has advocated for minority and immigrant rights and representation in the past, and continues to do so during his time in the United States.
At Ground Zero, Pope Francis shared the stage with representatives from 10 world religions, including Dr. Satpal Singh and Dr. Gunisha Kaur, who read from the Guru Granth Sahib Ji, or the Sikh holy text during the prayer.
In a memo released by the Office of the Moderator of the Curia, Roman Catholic Diocese of Brooklyn, members of the Sikh community were assured that those wearing a Kirpan would not be prevented from attending the interfaith ceremony. This was not the case previously. UNITED SIKHS worked with other interfaith organizations and directly with the Diocese of Brooklyn to ensure that the Sikh community would not be prevented from entering the ceremony on the basis of wearing a Kirpan, which was initially listed as a prohibited item. Accordingly, the United States Secret Service in conjunction with the Papal Visit Office was briefed on the Kirpan as being an article of faith. Great respect was shown to members of the Sikh community wearing a Kirpan, while passing through customary security procedures at the interfaith ceremony.
Four senior members of UNTIED SIKHS attended the event, including Chief Operations Officer Amrita Kaur, who remarks "UNITED SIKHS' invitation to join the Pope in an interfaith prayer service at the 9/11 memorial is symbolic of the struggle the Sikh community has faced since the attacks of 9/11. The interfaith prayer service helps advance our goals of promoting peace and prosperity between minority religions all over the world."
Indeed, the representation of Sikh Americans at the Ground Zero event holds a poignant significance to a community who has faced appalling acts of hate and violence in a post-9/11 world. The inclusion of minority faiths such as Sikh Americans on this groundbreaking day gave us the platform and visibility needed to gain the acceptance and understanding of our fellow Americans. Even after the unthinkable tragedies witnessed on and after September 11, 2001, we may still unite under the banner of religion and recognize the human race as one. In the words of Pope Francis,
"This is the time to live together with love and peace with different religions and differences. This is the time to embrace our differences and we should voice against those who stop us from being together. We should throw away our feelings of hate."